List of all W Type Engine ( W3 TO W30 )
Here is the list of all W Type Engine ( W3 TO W30 ), like the more commonly available v-engine, the name w engine comes from its appearance when viewed from the front the engine is shaped like a w the w shape comes from three to four banks of cylinders using the same crankshaft essentially forming a double v engine the Volkswagen ag more commonly known as vag is responsible for the mass production of the w-type engine and becoming a recognized engine configuration.
Types of W-Engine Configurations
w engine has been available in different configurations that include –
w3 Engine
w6 Engine
w8 Engine
w12 Engine
w16 Engine
w18 Engine
w24 Engine
w-30 Engine
that has been used in Sherman tank during world war two there have been numerous attempts at building a w-type engine for cars but most of them were unsuccessful the three most common versions of w engines are the w8 w12 and w16 Volkswagen's w8 engine is no longer in production but it has an interesting story behind it this engine was supposed to be the big seller in Volkswagen's w engine range while testing the concept Volkswagen used w8 and not w12 the w8 made a short-lived appearance in the 2001 w8 Passat which proved to be a poor contender in its segment the w12 is the most famous and it was used in Volkswagen Audi and Bentley but it wasn't exactly stunning the most stunning and ongoing application has been the w16 engine used in both the Bugatti Veyron and Chiron in its most potent current format this engine develops 1578 horsepower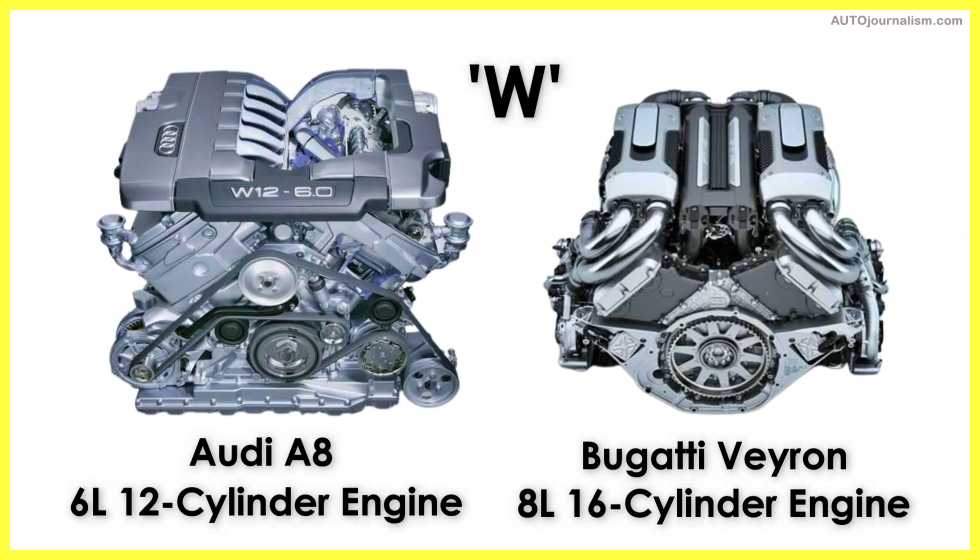 History & Evolution of W-Engine
one of the first w-type engines was designed and developed by Anzani Motorcycles, it was also used in the first plane to fly across the English channel successfully the w engine gained attention in 2001 with the introduction of the w8 and w12 but these engines would not exist if it weren't for another famous Volkswagen engine the vr6 the vr6 engine is basically a mix of v6 and straight-six it has two banks of cylinders like av6 but it uses the same cylinder head this meant the angle between the banks could be extremely narrow which also means the engine is more compact
Why W-Engine is Used?
the w configuration has always proven to be more useful it provides more space to hold all-wheel-drive components under the bonnet instead of an engine of similar capacity the purpose of the w engine is to further compact a large v-type motor to save space, for example, the 6-liter 12-cylinder engine of the Audi a8 and the 8-liter 16-cylinder engine of the Bugatti Veyron are two massive engines however they occupy less space by using the w arrangement, for example, the Audi a8 six-liter w12 is smaller than a six-liter v12 motor that can be found in other cars, as a result, the w12 could be slightly wider than the standard v12 motors however it is narrower and fits comfortably in the engine bay
Advantages & Disadvantages of W-Engine
w is shorter than v and it can be set further back in the car to balance weight distribution it is easy to manufacture and develop it also makes all the cars it equips very different from the competition making it more unique they have the most compact arrangement this is the reason why they can be used in high performance or heavy-duty vehicles w engine requires higher operating temperatures it has relatively low specific output increased complexity and expense now let's take a look at each engine in detail.
List of all W Type Engine
W3 Engine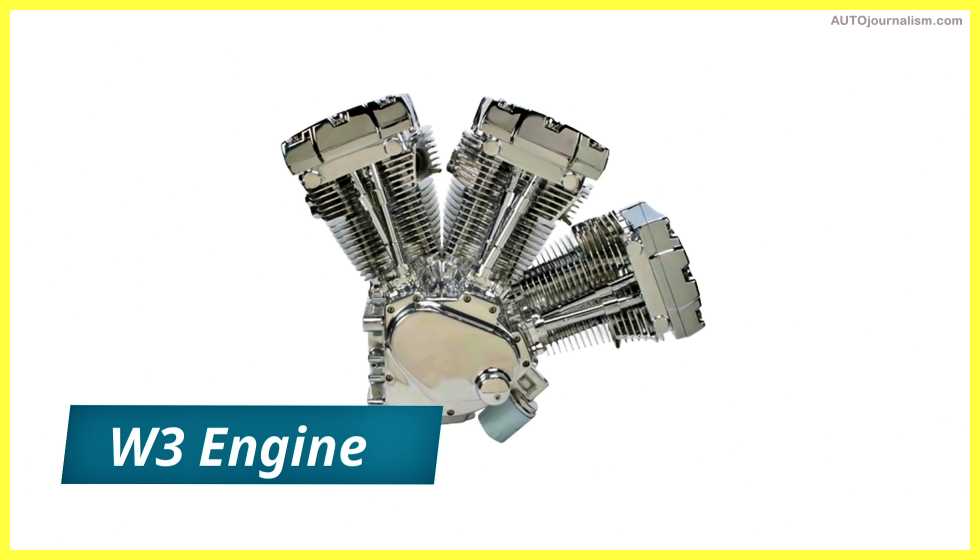 starting with the w3 engine the w3 is a three-cylinder w engine it is like a v-twin engine but with an added cylinder down the middle of the v that creates w working with 45 degrees v-twin engines at Harley-Davidson it was designed and developed by Jim fueling and his crew Jim got this idea to convert the v2 engine to w3 by adding another cylinder at the same 45-degree angle the fueling w3 is a 2.5-liter motorcycle with a total capacity of 2500 cc air-cooled engine that comes with three cylinders with two valves per cylinder and it is capable to produce 245-newton meter of torque at 3 000 rpm and an odd 150 brake horsepower with a top speed of 236 kilometers per hour these figures are seriously furious and unimaginable for the year 2000 and it still can't match many of the top bikes in the world
W6 Engine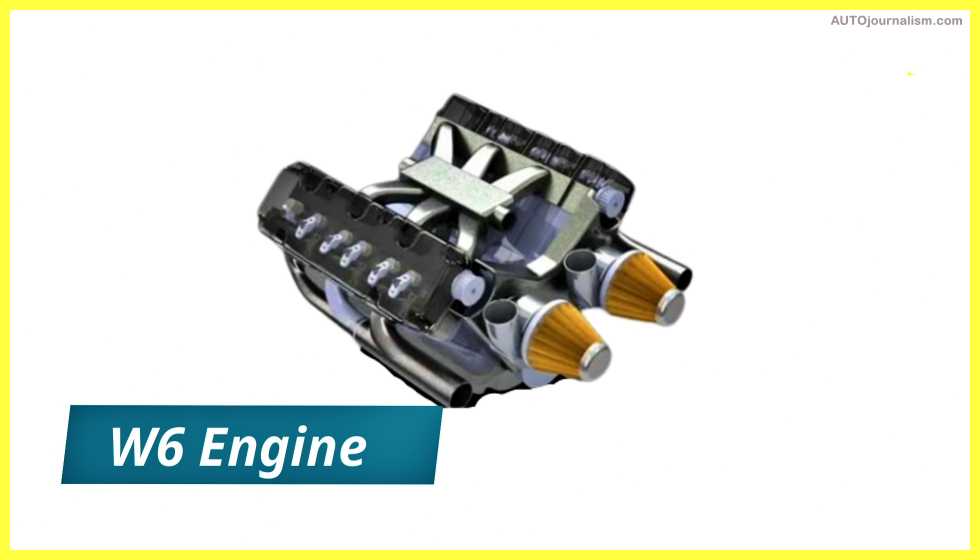 the w-6 engine has two w3 engine units placed side by side on a common crankshaft each cylinder has at least one intake valve and at least one exhaust valve the rumpler trophen wagon was a car developed by Austrian engineer Edmund Rumpler this car featured a siemens and has built 2580cc overhead valve w6 engine producing 36 horsepower it was mounted just ahead of the rear axle the engine transmission and final drive were assembled together and installed as a unit this car was capable of a top speed of up to 110 kilometers per hour.
W8 Engine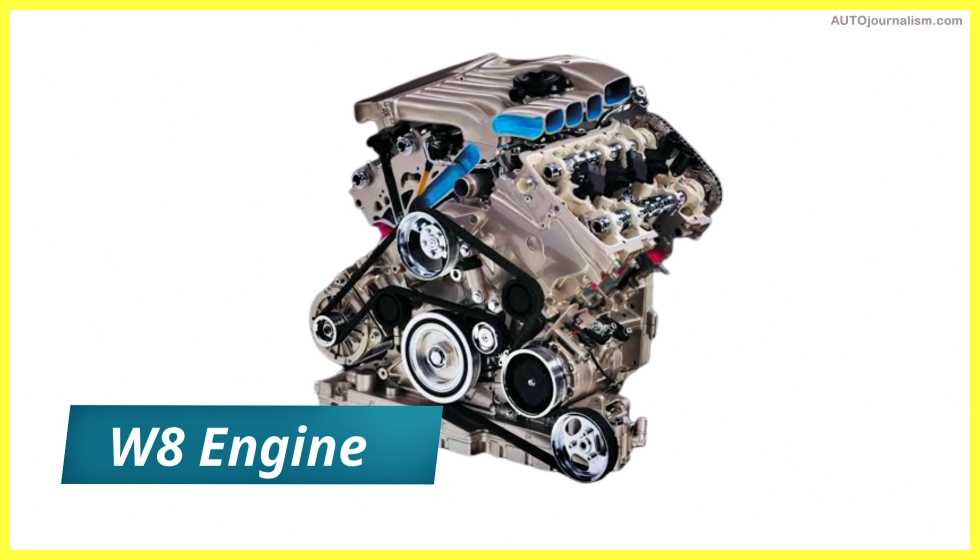 w8 engine is an eight-cylinder piston engine with four banks of two cylinders each arranged in aw configuration in practice the w8 engine is created from two narrow-angle of 15 degrees vr4 engines mounted at an angle of 72 degrees from each other on a common crankshaft thus the resulting four banks aligned to form a w w8 engines are much less common than v8 engines the only w8 engine to reach production was the Volkswagen 4-liter w8 engine which was installed longitudinally in the Volkswagen Passat from 2001 to 2004. this engine had a displacement of 3999 cc had a peak power rating of 271 horsepower at 6000 rpm and a peak torque rating of 370-newton meter at 2 750 rpm power and torque outputs were lower than competitors' v8 engines with similar capacity however the w8 engine was praised for its smoothness yet was considered a fuel-efficient eight-cylinder engine due to the design sales of the w8 engine Passat models were poor and production was discontinued when the next generation of Passat switched from a longitudinal engine to a transverse engine layout which made packaging of the yw8 engine difficult the w8 was effectively replaced by the Volkswagen 3.6 liter VR-6 petrol engine however while the w8 had less horsepower than the 3.6 vr6 which replaced it, it still provides more torque is more technically advanced and is mounted in a better manner than current vr6 engines
W12 Engine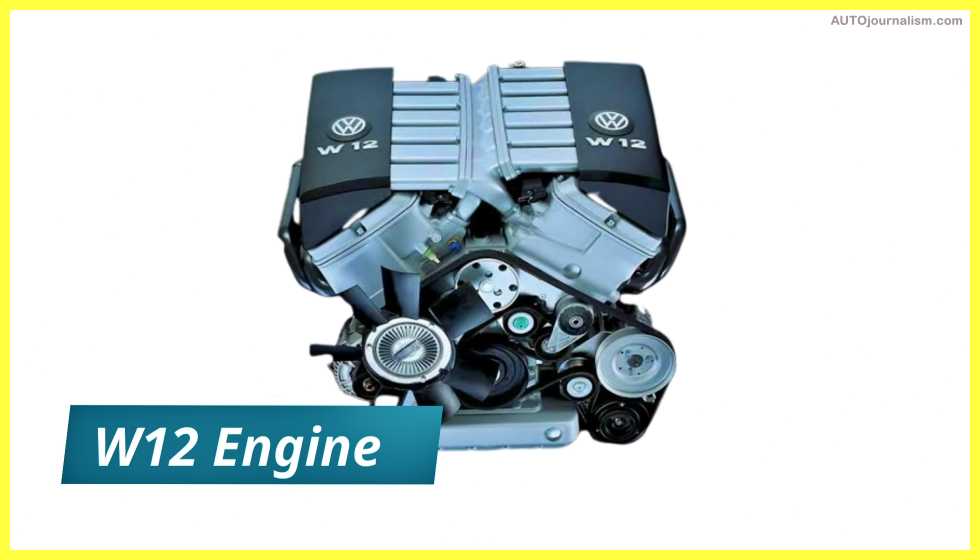 the w12 engine is a 12-cylinder piston engine with three banks of four cylinders arranged in a w shape it was used by several aircraft engines from 1917 until the 1930s it is less commonly used in automobiles than v12 engines w12 petrol engine has been produced by the Volkswagen group since 2001. this four bank engine based on two vr6 engines with a common crankshaft has been used in various cars sold under the audi bentley and volkswagen brands the napier lion was a three bank designed w12 engine produced in the uk in 1917 it has a capacity of 24 liters and produced 450 to 900 horsepower this engine is used in various military and racing airplanes land speed record cars such as the napier railton and the napier campbell blue bird and this engine was also used in racing boats such as miss britain 3. during the 1920s the farm and 12-week aircraft engine was produced 500 horsepower and was one of the company's best-selling engines in the year 1920s the lorraine 12 e corliss is another w12 aircraft engine that was produced in france during the 1920s for the 1990 formula one season the italian team life racing engines built a three bank w12 engine with a displacement of 3.5 liters the engine was used in rounds 1 to 12 of the 1990 season however it was unreliable and lacking in power and the car failed to pre-qualify for any races the w12 engine was replaced by a third-party v8 engine after round 12. the w12 engine has a very compact design for a 12-cylinder engine with the overall size of the 6 liters engine being smaller than Volkswagen's contemporary 4.2 liters v8 engine the first application was the 2001 Volkswagen w12 a mid-engine concept car that set the 24-hour world endurance record with a distance of 7085.7 kilometers and an average speed of 295 kilometers per hour the first production car to use the w12 engine was the Audi a8 other cars to use the w12 engine are the Bentley continental gt Bentley continental flying spur Bentley Bentega Volkswagen Fayette and w12 and the Volkswagen Tuareg w12 the engine was also used in the spiker c12 la turbo and spiker c12 Zagato low volume sports cars
W16 Engine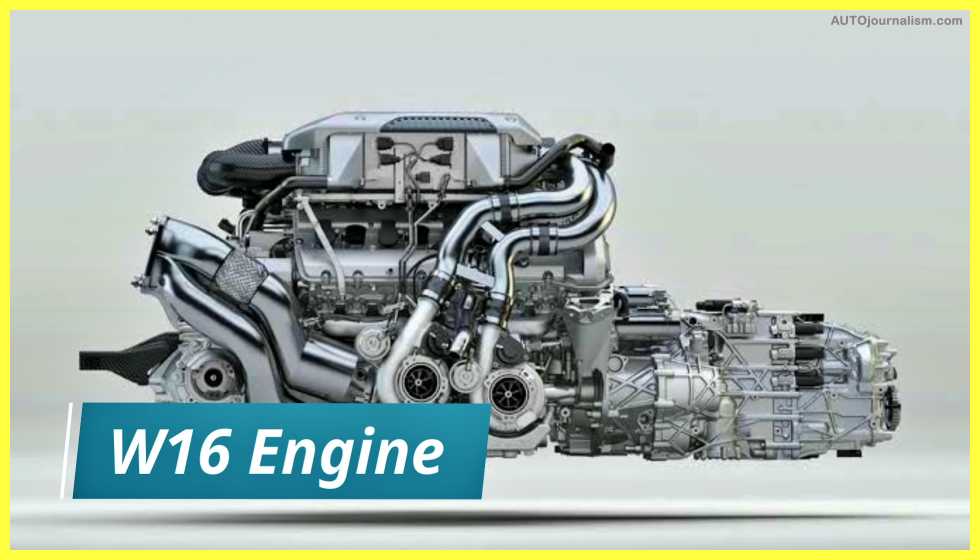 w16 engine is a 16 cylinder piston engine with four banks of four cylinders arranged in aw configuration w16 engines are rarely produced with the notable exception of the volkswagen group 8.0 wr-16 engine which has been used since 2005 in the bugatti veyron charon and their related models the w16 engine that volkswagen group uses in its bugatti veyron and charon has a displacement of eight liters and four turbochargers it is effectively two narrow angle vr8 engines mated at an included angle of 90 degrees on a common crankshaft the most powerful version of this engine installed in the bugatti bolide generates 1825 horsepower at 7000 rpm at the 1999 geneva auto salon bentley presented a concept two-seated mid-engine car with an 8-liter w16 engine another concept car from volkswagen group to have the w16 engine is the audi rosemire introduced in 2000 and shown at various auto salons the engine fitted to rosemeyer is the only w16 variation to have five valves per cylinder the jimenez novia a one-off sports car built in 1995 used a w16 engine with two crankshafts that is built by combining four inline motorcycle engines this engine has a displacement of four leaders and produces 560 brake horsepower currently the street legal bugatti chiron super sport 300 plus houses the most powerful rendition of this engine the chiron super sport 300 plus generates 1578 horsepower and reaches a top speed of 304 miles per hour making it the fastest sports car in the world while the chiron is the fastest model in the bugatti lineup the limited edition bugatti chin to diaci is the most powerful car model and it is also utilizes the w16 engine that produces 1 600 horsepower powered by the w16 the veyron produced over 1 000 horsepower and raced to a top speed of 254 miles per hour at the time the veyron was the highest performing production sports car over time the engine has been retuned to be stronger faster and better the most recent addition to the bugatti lineup is the bugatti devo which houses a w16 engine that produces 1479 horsepower needless to say the legendary w16 engine has come a long way since it took the auto world by storm over 15 years ago.
W18 Engine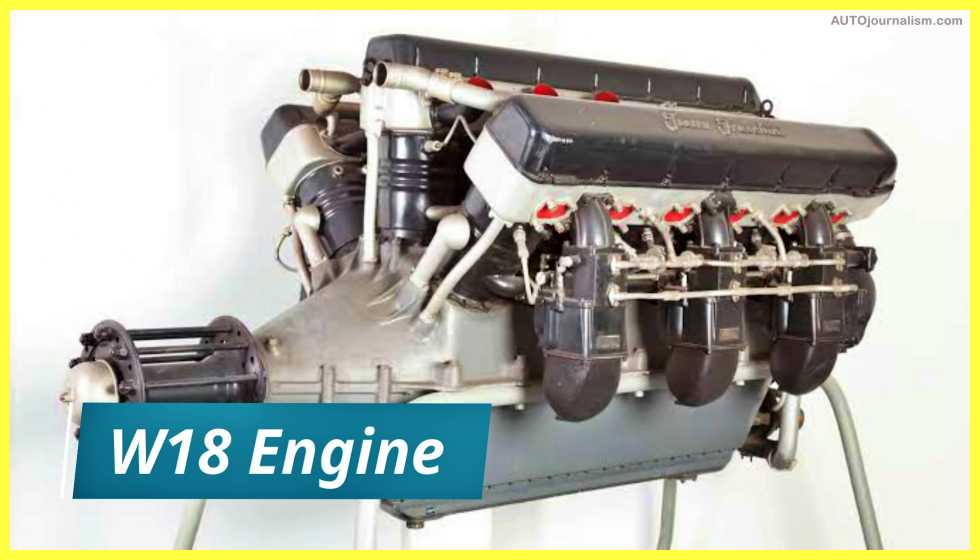 the w18 engine is an 18-cylinder piston engine with three banks of six cylinders are arranged in aw configuration the w18 layout is rarely used with the only production examples being several aircraft during the 1920s prototype w18 engines were produced for concept cars predecessors to the Bugatti Veyron in 1990s an early example is the Hispano-Suiza 18r an aircraft racing engine produced in France in 1929 this was followed by the yaso 750 which was built in Italy and used in several flying boats the iso 750 was water-cooled and used an angle of 60 degrees between banks the Tatra t955 was a prototype diesel aircraft engine that used a w18 layout in 1990s the Bugatti EB-118 eb218 18 thirds Charon and EB 18.4 Veyron concept cars were fitted with w18 engines the Bugatti 18 iii Charon is a 1999 concept car powered by a 6.3 liter w18 engine it is a two-seater mid-engine coupe the Chiron's w18 has a power output of 555 horsepower and 649 newton meters of torque the 18 thirds Chiron could accelerate from zero to 97 kilometers in 3.9 seconds and could reach a top speed of approximately 335 kilometers per hour
W24 engine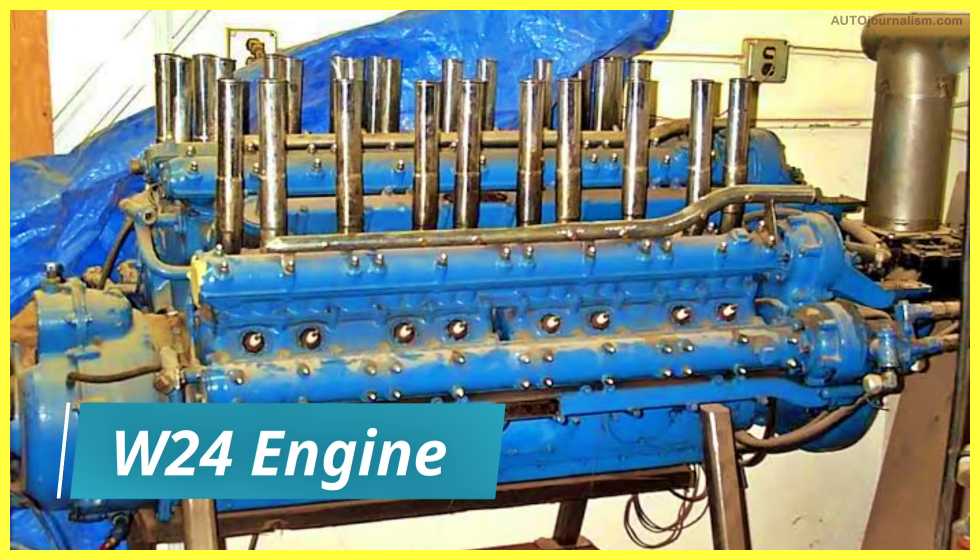 horus elgin dodge jr was very involved in boat racing and he wanted to create a boat that would be unbeatable in 1925 dodge approached wessenburg brothers racing to build an engine to propel him to victory in the gold cup race an agreement was made and a contract was signed in 1926 for the construction of two complete engines the contracted engine was essentially three straight eight engines on a common aluminum crank case creating a w24 the two side banks were angled 60 degrees from the center vertical bank each of the w-24s engine banks was made up of two four-cylinder blocks with integral heads at this same time in history the napier lion w12 engine was powering record that's setting the air land and marine speed machines and it is easy to see how the lion could have served as inspiration the 1931 gold cup race was held on lake montauk in new york and the w24 engine was installed in dodge's miss syndicate 3 boat while it has failed to finish the first heat the 24 cylinder engines brought nothing but frustration the allison v 3420 manufactured by the allison engine company is also an example of w24 engine
W30 Engine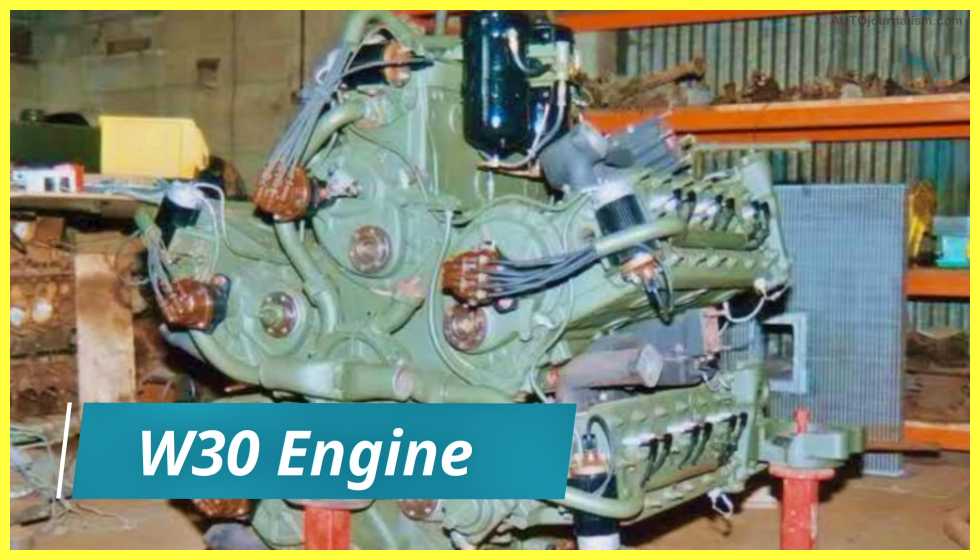 the Chrysler a57 multibank is a 30-cylinder 20.5 liters engine that was created in 1941 as America entered world war ii it consists of five banks of inline six-cylinder engines it was born out of the necessity for a rear-mounted tank engine to be developed and produced in the shortest time possible for use in the m3a4 lee medium tank and its successor m4a4 Sherman medium tank the a57 is the only example of a 5 bank w30 configuration if you enjoyed this discussion then let me know in the comments do you know v engines can fit more pistons into a smaller space produce more torque at lower rpm and generally have greater engine displacement.
Read also:
List Of V Type Engines (V2 to V24)