List Of V Type Engine
Here is the list of all Engine Names, a List Of V Type Engine Like ( V2 / V-twin Engine, V3 engine, V4 engine, V5 engine, V6 engine, V8 engine, V10 engine, V12 engine, V14 engine, V16 engine, V18 engine, V20 engine, V24 engine, ) The engine is a popular ic engine layout that consists of two cylinder banks, each with the same number of cylinders, and is coupled to a shared crankshaft. This engine construction positions the cylinders at an angle to each other, ranging from 60 to 90 degrees. When viewed from the front of the engine, the angle between the cylinders forms a v-shape, which is why this engine is known as a v-type engine.
Types of V-engines
V3 v4 v5 v6 v8 v10 v12 v14 v16 v18 v20 and v24 v6 v8 and v12 engines are the most prevalent configuration for vehicle engines and have achieved production. Some motorbikes have v2 engines, while others have v4, v5, and v8 engines. With a few exceptions, v16, v20, and v24 are rarely used in automobiles and are reserved to heavy trucks and locomotives. The inline engine is a considerably simpler design than the v, with a single bank having all of the cylinders in a row. Inline layouts are heavier and need more length in comparison to the v.
When compared to an inline engine with the same number of cylinders, the engine's design architecture significantly reduces height, length, and weight. Engines with the same number of cylinders are almost half the size, allowing for a significantly shorter hood, though it does slightly increase the width of the automobile. Another advantage is that v engines can be manufactured bigger and hence more powerful than inline engines.
List Of all V Type Engine
V2 / V-twin Engine ( V Type Engine )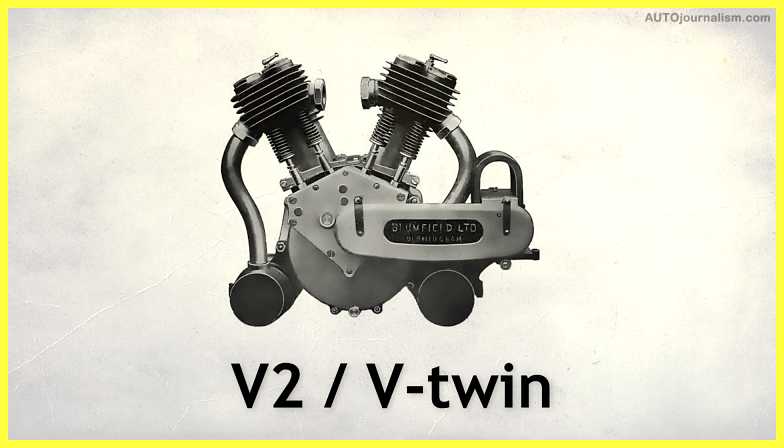 Let's look at how each of these v engines works, starting with the v-twin. A v-twin engine is a two-cylinder piston engine arranged in a v-shape with the cylinders sharing a common crankshaft and is widely used in motorcycles installed either transversely or longitudinally these terms are most often used to refer to the crankshaft orientation relative to the frame the transversely oriented engine is the most common arrangement, and mounting the engine longitudinally is a less common arrangement. A v-twin engine's most frequent longitudinal v angle is 90 degrees, which provides for optimal primary balance.
If not, balanced shafts are usually required to reduce vibration. One of the first v-twin engines was built by Gottlieb Daimler in 1889 and was used in the Stahl rad wagon, a steel-wheeled car. V-twin engines have also been used for industrial engines and in several small cars, including the 2018 Morgan three-wheeler.
V3 engine ( V Type Engine )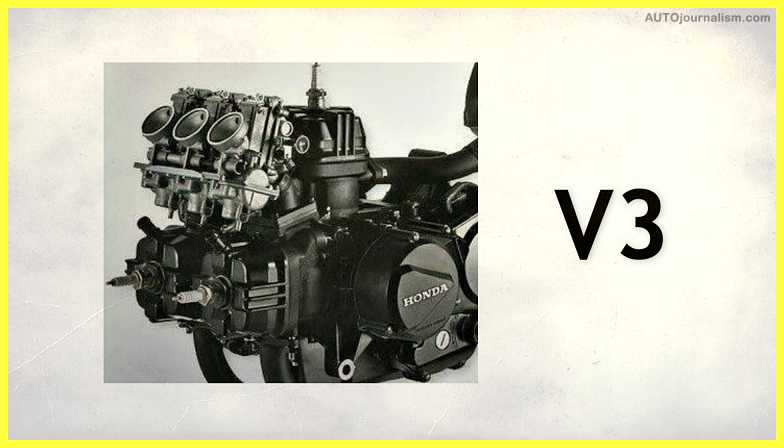 The v3 engine features two banks of cylinders, one with two and the other with one. It is an uncommon layout that has mostly been utilized in two-stroke engines for bikes competing in Grand Prix motorcycle racing, with the 1955 Dkw 350 being the first example. The v3 engines were used in the honda Mvx 250f and honda ns400 sporting bikes.
V4 engine ( V Type Engine )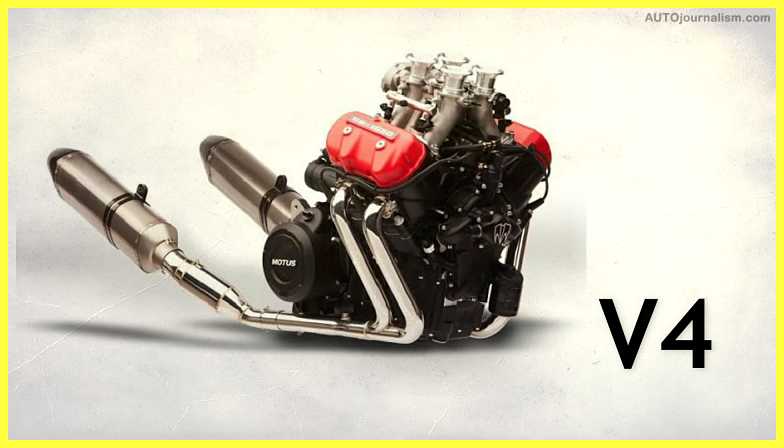 A four-cylinder piston engine with two cylinders in each bank and a common crankshaft is referred to as a V4 engine. In most v4 engines, the opposing cylinders share two crankpins. A v4 engine is substantially shorter than an inline-four engine since the crankshaft is supported by three main bearings. Different v angles can be employed if the two pistons are at a 90-degree angle with shared crankpins. The engine has the added benefit of having perfect primary balance, which lowers vibration. V4 engines have several disadvantages, including their design being naturally broader than inline-four engines, and having two independent banks of components, which increases cost and complexity. Engines with four cylinders are often more fuel-efficient.
If you're looking for a small, reliable car, these engines are commonly found in smaller compact cars that are easier to maneuver and park. The problem is that, like any v engine, a v4 requires two cylinder heads, two exhaust manifolds, two-valve trains, and twice as many camshafts as an inline 4 engine. This means a v4 is expensive to develop and build, which is why, despite Ford and Launch's experimentation, the v4 never caught on Formula One vehicles were the first to use v4 engines in automobiles. The launch of v4 engine, which was initially utilized in the launch of Lambda in 1922, was the first v4 engine used in production cars.
The engine was developed for front-engine automobiles and was used in several Ford models as well as the front-wheel-drive Saab 95, 96, and sonnet models. It was also used in the mid-engine matra 530 sports car. The majority of 2020 moto GP manufacturers chose the v4 engine for their bikes.
V5 engine ( V Type Engine )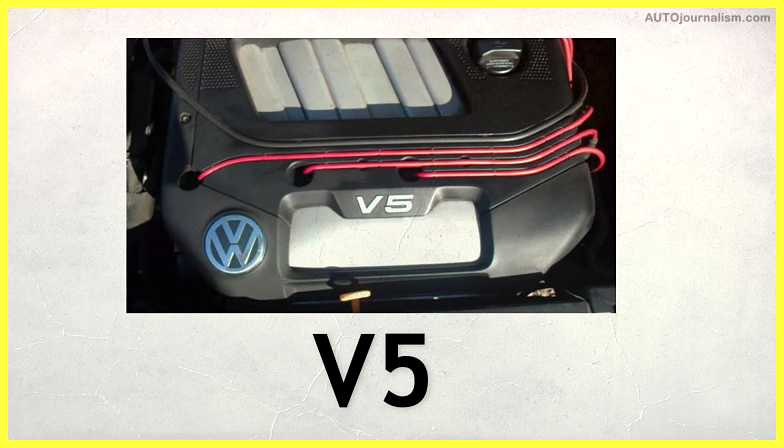 The v5 engine is a five-cylinder piston engine with unusual designs. Oldsmobile created a prototype v5 diesel engine in the 1980s, but it was never put into production, and the project was shelved. The engine is based on an oldsmobile v6 diesel engine, with a fuel injection pump replacing the sixth cylinder. The vr5 engine, developed by Volkswagen, was the only v5 car engine to reach production.
The vr5 was a narrow angle engine with three cylinders on one bank and two on the other, with a single cylinder head. The first thing that springs to mind when thinking about the vr5 engine is how uneven and weird it is since one side of the engine has more mass than the other. The vr5 was used in mk4 golfs, jettas, b5 gen passats, and new beetles in the early 2000s before being replaced by in-line four-cylinder turbocharged engines that produced similar total power output but were lighter than the v5.
A v5 engine was utilized in the honda rc-211v, a moto gp racing motorcycle.
V6 engine ( V Type Engine )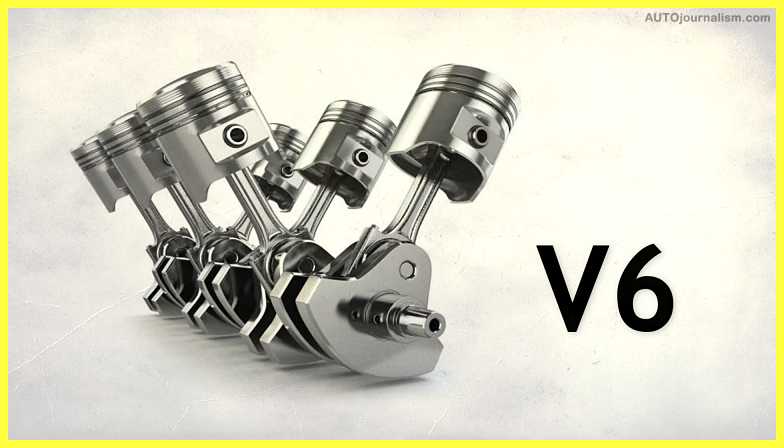 The v6 engine consists of six cylinders with three cylinders on each bank in most engines the two banks are at a right angle 90 degrees or less to each other it is the second most common engine designed in modern cars after the inline-four it can be powered by different types of fuels including gasoline diesel and natural gas it is the second most common engine designed in modern cars after the inline-four it can be powered by different types of fuels including gasoline diesel and natural gas it is the second most common engine designed The v6 engine is a highly compact engine design that works well and is ideally suited to the popular transverse engine front wheel drive cars. It has essentially replaced the inline six engine, which is too lengthy to fit in many modern cars.
The v6 engine, however, is more sophisticated and less smooth than the inline six; it is more compact and rigid, but also more prone to vibrations. Due to the odd number of cylinders in each bank, it is also becoming a high-performance engine with strong power and torque output as well as good fuel economy. V6 engines, regardless of v-angle, are unbalanced, and there are also vr6 engines with a tight angle between the cylinder banks. Volkswagen is part of the Volkswagen Group.
In 1991, the first vr-6 engine was introduced. The marmon motor car firm developed some of the first v6 automobiles in 1905. The v6 engine was taken into racing by launcha, and they had some good results. Later, Ferrari built the dino v6, which was used in the ferrari 246 formula one car. Laverta displayed a 996 cc v6 engine motorbike.
V8 engine ( V Type Engine )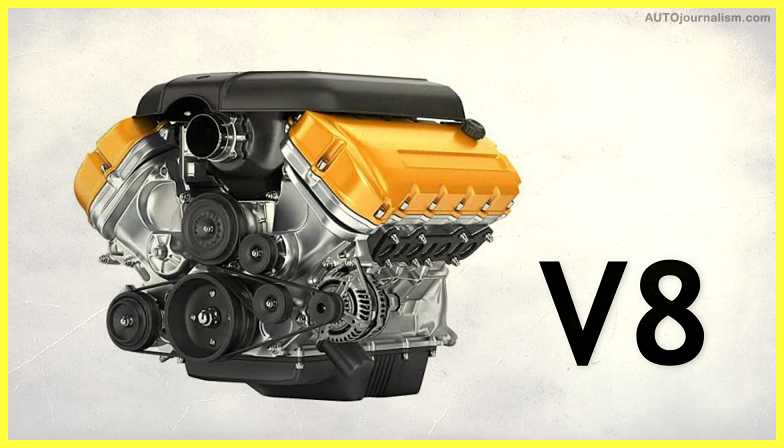 The engine was later increased in size to handle larger vehicles and buses. A v8 engine is an eight-cylinder piston engine with two banks of four cylinders sharing a common crankshaft. The French manufacturer built the first known functional v8 engine in 1904, although the American Cadillac l-head engine is considered the first v8 engine to be produced. Following the debut of the Ford flathead v8 in 1932, the popularity of v8 engines in automobiles skyrocketed. In Australian auto racing, v8 engines are common in purpose-built engines for racing vehicles, most notably in the v8 supercars. Formula One began the 2006 season with v8 engines replaced.
V10 engine ( V Type Engine )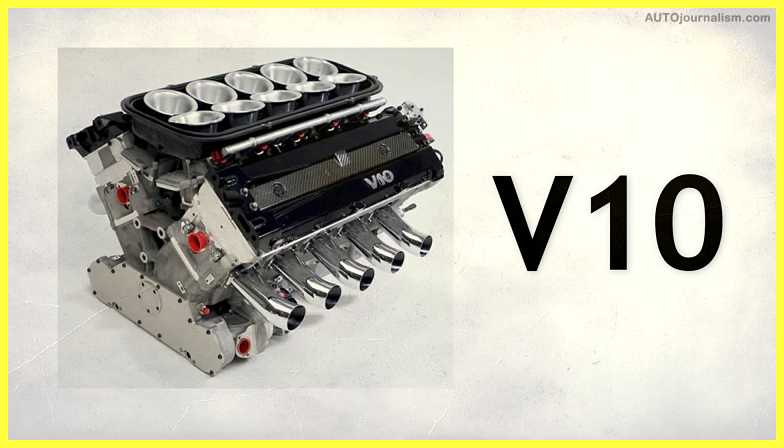 Later, the v10 engine will be reduced in cost and power.
Large trucks, industrial equipment, and airplane engines all use v8 engines.
Because they give more power and acceleration, V8 engines are claimed to be suitable for most muscle vehicles. By lightly pressing on the accelerator, the driver can feel the engine's abundant strength and power, which is one of the many reasons to get into a v8 engine car and enjoy a refined and luxurious ride while enjoying faster acceleration and better performance.
Chevrolet Corvette Stingray, Aston Martin.
The v8 engines are used in the sf-90 straydale premium automobiles. A v10 engine is a piston engine with ten cylinders that is far less common than a v8 or v12 engine. The v10 layout does not have an ideal engine balance since each cylinder bank acts as a straight five engine. hence balanced shafts are sometimes employed to decrease vibrations in a v10 engine. The 1936 bush solser, a prototype locomotive of which three copies were manufactured in the United States, featured one of the first known v10 engines.
The v10 diesel engine was also used in the Leopard 1 armored tank. In motorbikes, the v10 petrol engine is employed in the volkswagen feyeton luxury sedan and volkswagen tuareg suv lamborghini v10 porsche v10 engine bmw s85 and audi v10 The millyard viper v10 is a one-of-a-kind motorbike powered by an 8-liter Dodge Viper v10 engine that produces 500 horsepower. Formula 1 racing has seen the most widespread deployment of v10 engines.
V12 engine ( V Type Engine )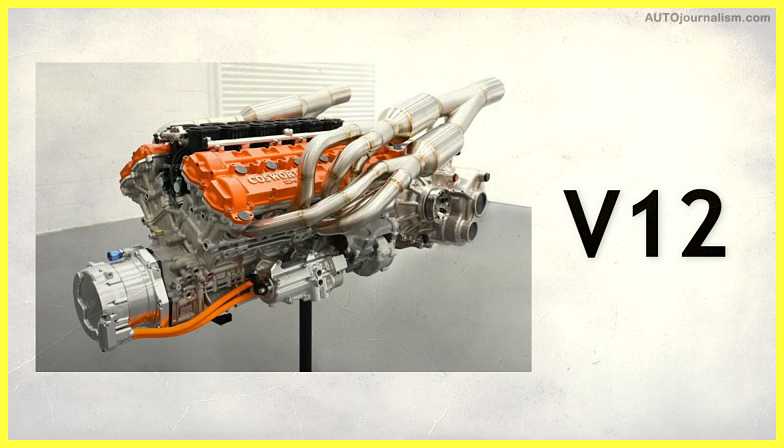 A v12 engine is a piston engine with 12 cylinders that is more frequent than a v10 engine but less common than a v8 engine. Due to the balanced design of the engine and the seamless distribution of power, the first v12 engine was created in 1904 for use in racing boats. In Formula One racing, v12 engines were found in early luxury cars, boats, planes, and tanks. In the 1990s, v12 engines were prevalent. By employing the correct v-angle, each bank of a v12 engine basically functions as a straight-six engine with excellent primary and secondary engine balance. As a result, a v-12 engine can have perfect balance. A four-stroke v12 engine's even firing order has a 60-degree interval.
As a result, only a 60-degree v angle can fully balance this engine. The disadvantage of a v12 engine is the added cost complexity and friction losses compared to engines with fewer cylinders. However, v12 engines are often longer than v6 and v8 engines. The extra length makes it difficult to put a v12 engine inside a passenger automobile, but due to its lower width, the length is usually not an issue for trucks and stationary applications.
The v12 is commonly used in locomotives, armored tanks, and twin-propeller boats. Two v12 engines can fit side by side, and three v12 engines are sometimes used in high-speed applications. 3 boats with propellers Six or more v12 engines can be seen on large-speed cruise ships. v12 engines have been used in Formula One since the 1964 honda ra 271 racing car, and numerous truck manufacturers, such as Tetra, provide v12 diesel engines in their tetra t813 and tetra t815 models.
V14 engine ( V Type Engine )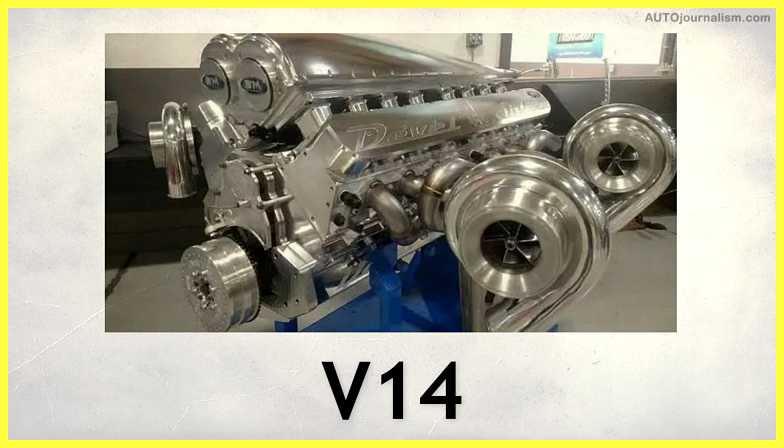 The v14 engine is a 14-cylinder engine with two banks of seven cylinders placed in a v-shape on the crankcase. It is a rather uncommon arrangement used on big medium-speed diesel engines used for power generation and maritime propulsion. All of BMW's medium-speed diesel engines have a v14 layout, which has previously been installed on the explorer dream and Norwegian spirit. V14 engines have also been offered in 19 sa-15 type arctic freight ships with 214 cylinders. The v14 has two banks of seven cylinders, which is an unusual setup that would be difficult to balance. A v12 would be easier and less expensive to build, plus it is naturally balanced, so it is a suitable choice for cars.
V16 engine ( V Type Engine )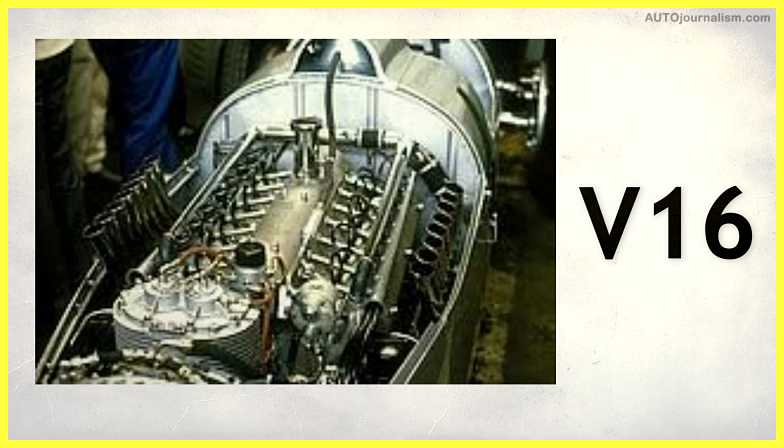 A 16-cylinder piston engine with two banks of eight cylinders arranged in a v-shape is known as a v16 engine. Engines with fewer cylinders, such as v8 and v12 engines, are less prevalent than v16 engines. The v16 engine was originally used in an experimental airplane in 1910, followed by many cars in the 1930s. Today, railroad locomotives, marine boats, and stationary power generators are the most prevalent applications for v-16 engines. The Cadillac v16, launched in January 1930, was the first production car to feature a v16 engine.
With a v-16 engine, the Cadillac 16 concept car and the Rolls Royce 100 ex concept car were presented in 2003. The car featured in the film Johnny English reincarnated is also powered by a v-16 engine. The Maserati Tipo v4 car, which was used in Grand Prix racing and set a world speed record of 245.9 kilometers per hour in an event in Italy, was the first known use of this engine in motor racing. The v16 engine was also used in Formula One racing from 1950 to 1955.
V18 engine ( V Type Engine )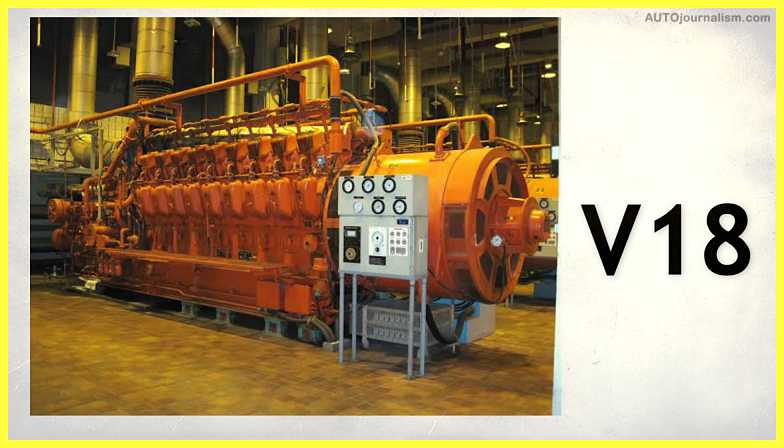 The 18 engine is a piston engine with 18 cylinders and two banks of nine cylinders arranged in a v-shape. Large v18 diesel engines have seen limited application in haul trucks energy generation, making the 18 engines an unusual arrangement. marine propulsion and rail transportation The v18 engine is used in the bellez756 and Liebherr t282b hull trucks, but no other automobiles have been known to use it.
V20 engine ( V Type Engine )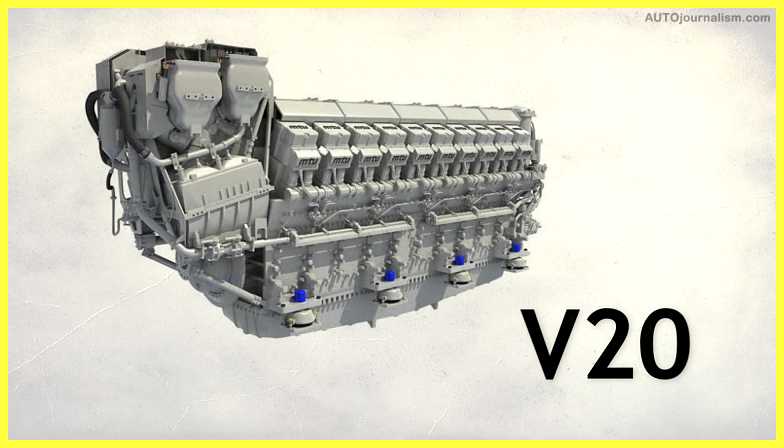 A v20 engine is a 20-cylinder piston engine with two banks of ten cylinders arranged in a v-shape. Large diesel v20 engines have been used in diesel locomotives, haul trucks, electric generators, and maritime applications since the 1930s. The Emd two-stroke v20 turbo diesel engine was used in diesel-electric locomotives like the Emd SD-45 in the 1960s.
V24 engine ( V Type Engine )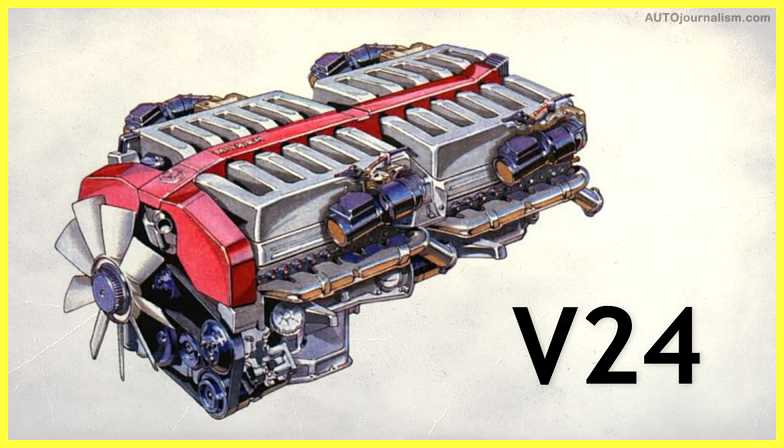 The V24 engine is a 24-cylinder piston engine with two banks of 12 cylinders organized in a v-shape. The majority of v24 engines have been dual v12 engines, which feature two independent v12 engines in line with each other. The v24 engine is used for very big trucks and trains. The as6 engine was constructed by Fiat in the 1930s as a power plant for the competition airplane Mackie mc-72 thor 24. It is driven by a v 2471 Detroit diesel engine with 3974 horsepower and can accelerate up to 210 kilometers per hour. It is derived from a 92-foot boat.
NEXT
Top 10 Future Weapons of Russia
Top 10 Hypersonic Missile In The World
Top 10 Future Weapons of Pakistan